The Actor's Voice Workout
Posted on May 24, 2017
Dates: Monday Nights - June 12 - July 24th (no class on Mon July 3rd)
Time: 6:30 - 9:30 pm
Capacity: 12 students
Cost: $225

All actors need to take a 'fundamentals of the voice' class at some point in their training. This class is designed for actors of all abilities and will begin with warm-ups and exercises meant to encourage focus, build awareness and develop voice skills for all acting mediums, including stage, on-camera, radio, and improv.
Topics will include Breathing and Support, Alignment and Posture, Resonance and Projection, Inflection and Intonation, and Rhythm and Articulation. We'll also touch on vocal health and hygiene and other voice topics as needed.
Students will bring in monologues, poems or readings for practice. We will also use improvisation and extemporaneous conversation as vehicles for our voice work. Emphasis will be on personal vocal development as a necessary foundation for all actors.
Actors will leave with an individual voice evaluation.
About Jennifer Thomas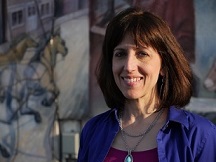 Jennifer Thomas is a Voice, Speech, Dialects, Accents and Singing Coach and the founder of Your Creative Voice in Denver, Colorado. She is also a working Voice Over actor, specializing in Commercial and Narration and is represented by Donna Baldwin Agency. She has been teaching voice for over 20 years and working in Voice Over for 15 years.
Jennifer has been active in the Improv Community and completed the 9-month program at the Bovine Metropolis School of Improv. She earned a Master of Music in Voice Performance from the University of Connecticut and a Master of Fine Arts in Voice Training and Coaching for the Theater from the National Theater Conservatory at the Denver Center for the Performing Arts. Jennifer has taught individuals from all walks of life, from actors, to CEOs. She is also currently on the Education Faculty at the Denver Center for the Performing Arts and has taught at DU, CU Boulder, The Denver School of the Arts, The Arvada Center, and Metro State University, among others.
---