Introduction to Voice Over
Posted on June 17, 2016
Dates: July 25th - August 29th
Time: 6:30 pm - 9:30 pm
Capacity: 14 Students
Cost: $225

Actors and everyday people make money using their voices. Find out if you have what it takes to be a voice over artist. Students will learn the fundamentals of voice over work including cold reading, breathing, projecting, text interpretation, vocal variety, as well as an overview of the voice over industry.
Each week class will focus on one topic and everyone will have a chance to practice at the microphone in front of the class. Be prepared to get up each and every week, and we'll record your progress! Students walk away with a final voice assessment and a recording of all practice sessions.

About Jennifer Thomas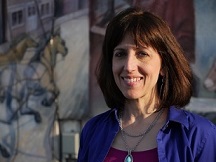 Jennifer Thomas is a Voice, Speech, Dialects, Accents and Singing Coach and the founder of Your Creative Voice in Denver, Colorado. She is also a working Voice Over actor, specializing in Commercial and Narration and is represented by Donna Baldwin Agency. She has been teaching voice for over 20 years and working in Voice Over for 15 years.
Jennifer has been active in the Improv Community and completed the 9-month program at the Bovine Metropolis School of Improv. She earned a Master of Music in Voice Performance from the University of Connecticut and a Master of Fine Arts in Voice Training and Coaching for the Theater from the National Theater Conservatory at the Denver Center for the Performing Arts. Jennifer has taught individuals from all walks of life, from actors, to CEOs. She is also currently on the Education Faculty at the Denver Center for the Performing Arts and has taught at DU, CU Boulder, The Denver School of the Arts, The Arvada Center, and Metro State University, among others.
---