NEW Teens and Tweens Performance Class
Posted on August 19, 2015
Dates: Saturdays, Feb 3rd - March 24th (8 week class)
Time: 9:30 AM - Noon
Cost: $275.00

To reserve your spot email info@benjydobrin.com.
For those of you who are new to the Teens & Tweens class, this class is a great mix of FUN specific individual training combined with group scene work, acting and improvisational games, and auditioning techniques, all designed to help your children become the best actors that they can be. Class is designed to address two specific concepts: 1. Helping the actors to refine their craft and hone their acting skills to the best of their ability, and 2. Helping the actors to truly begin to develop the crucial audition skills necessary to get competitive and ultimately get the job. All classes are rooted in the classic BDS style, where a nurturing and FUN environment paves the way for an incredible learning experience to take place.
In this exciting and highly creative on-going workshop, Danielle Prall will engage your children and spark their imaginations to create new worlds and exciting characters.
BDS: How would this workshop benefit teens and tweens?
Benjy: This class is geared specifically for our younger actors in the teen and tween range. The class aim is to teach each student at their individual level through a highly creative process. Whether they have been acting for years or are just starting out, they are taught a specific, behavior-based, process that will allow them to create 3 dimensional characters and have a lot of fun in the process.
BDS: What are some of the subjects you will cover throughout this workshop?
Benjy: We will be playing a lot of fun and creative improv games that will expand the teen's and tween's imagination and allow them to create characters on the spot teaching them to think on their feet. These improv games will also teach them to listen to their scene partners, which is an important relationship skill-set that can be carried throughout life. We will then be working on breaking down specific scenes that will be given to them in class. They will be taught a process for bringing the character to life and presenting real people in a real place. Some of these include playing around with different objectives that the character is trying to achieve, experimenting with various behavioral techniques, and different tactics for their fully formed characters to achieve a specific goal within the scene. We will also work on cold read techniques that will allow the actors to present an interesting scene even when not memorized.
BDS: What will the Teen's and Tween's leave with at the end of this workshop?
Benjy: Not only will they leave with new friends and a freshly inspired imaginations, they will also leave with a better understanding of how to review a script and take a character from mere words on a page to a living, breathing, and believable person in a real place. They will also have lots of fun in a safe and creative environment.
To reserve your spot email info@benjydobrin.com.

About Danielle Prall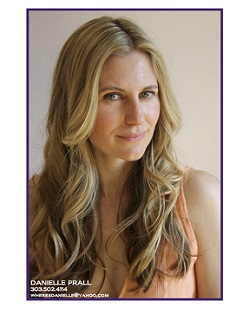 Growing up in the Aspen valley, Danielle got an early start in front of the camera, as her mother was a photographer and constantly had her lens ready in search of the most authentic, deeply human pictures. Filming commercials at a young age, Danielle also grew up riding horses and became a National Rodeo Champion by the age of 13. After playing volleyball, basketball and soccer in high school Danielle pursued a full time career in Olympic Style Taekwondo, and in 1999 won her first international gold medal in Barcelona Spain and also made a bid for the 2000 Olympic Team. All the while, the desire to pursue an acting career continued to percolate…
After nearly a decade of life pursuits, including 10 years of teaching yoga and a full time professional career in the solar sector, Danielle finally brought her acting dreams to the forefront, beginning her study of acting in 2009. In the summer of 2012, Danielle was cast in her feature film, 'Teddy Boy', directed and written by Sean J.S. Jourdan and produced by Meryem Ersoz. Prior to she has appeared in several short films, including PUSH, an official selection of the 2011 Festivus Film Festival, as well as 'For Better or For Worse'. She also made her stage debut in 2011 at the Vintage Theatre in Denver, Colorado in 'Dinner with Friends' for the BDS Showcase.
Danielle was most recently cast in the Colorado-based, independent thriller, 'Table 47, a noted screenplay written by Michael Brody and directed by Jeff Kingery. The movie is currently in post production.
"I believe that sometimes, just by virtue of continuously cultivating a deeply imbedded dream, the body will begin to develop the skills before the practice even begins. As soon as I began my acting career, it felt as if I had been doing it my entire life. Being given the opportunity to play first Helene in 'Teddy Boy' and now Amy in 'Table 47' with such an outstanding cast and crew is just a natural extension of that process." Danielle Prall
---